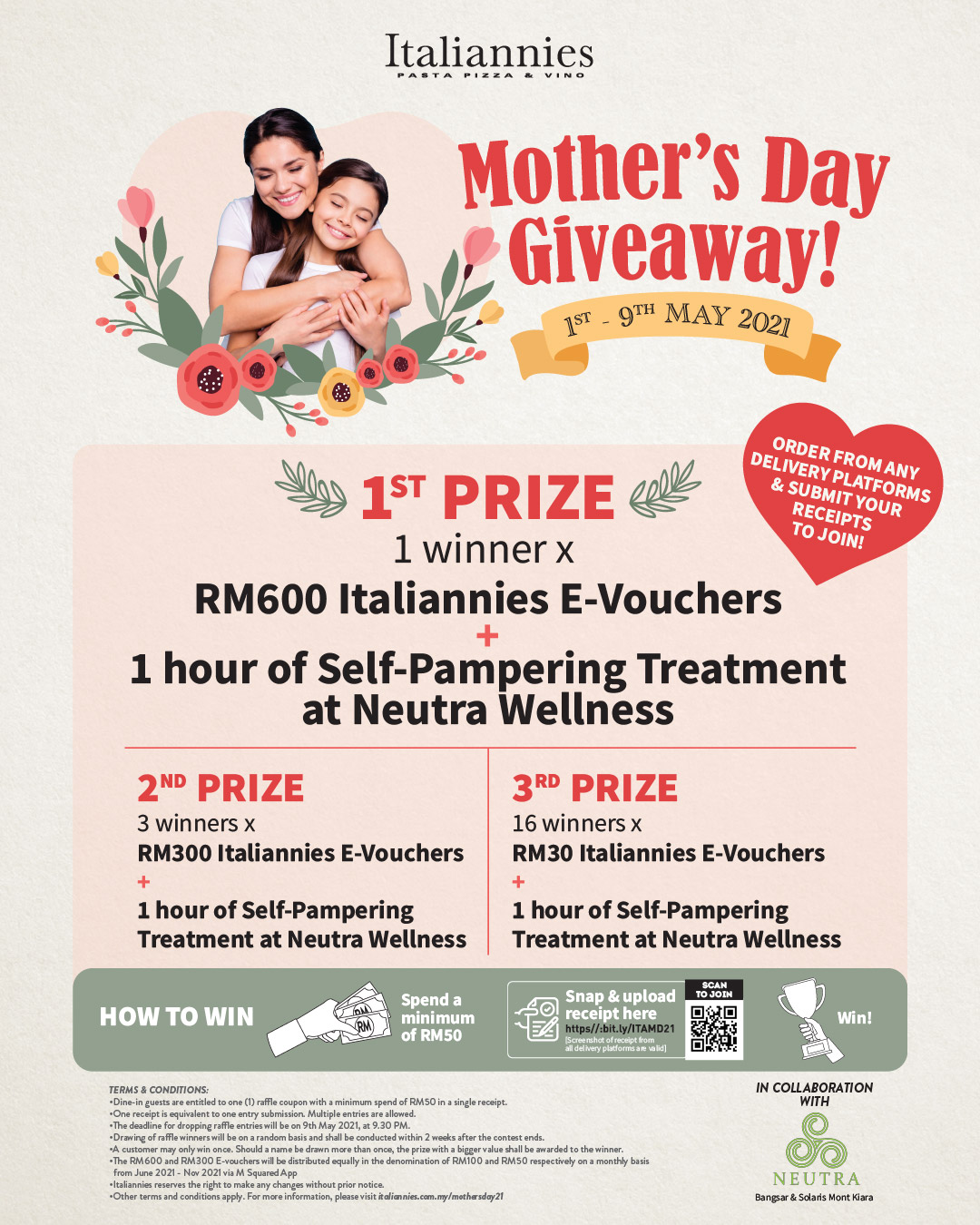 This Mother's day Italiannies are giving away RM3,580 worth of prizes! Can't dine-in? No worries. Simply order from any delivery platforms & submit your receipt online to win! This is happening from 1 May to 9 May.
How to participate:
Order delivery / takeaway and spend min RM50 (subtotal) in a single receipt from 1st May to 9th May.
Snap / screenshot & upload receipt here: bit.ly/ITAMD21
Wait for the announcement of the winners on the 21st May 2021.
Contest Terms and Conditions
This contest is valid from 1st - 9th May 2021.
Self pick-up / delivery orders are entitled to one (1) raffle coupon with a minimum spend of RM50 in a single receipt.
For delivery orders, guests need to fill up the online entry form and upload the screenshot of the receipt (from any of the delivery platform). For self pick-up orders, guests need to fill-up the raffle coupon and drop the entry coupon(s) along with the receipt(s) at the restaurant designated contest box.
One receipt is equivalent to one entry submission. Multiple entries are allowed.
The deadline for submitting the entries will be on 9th May 2021, at 9.30 PM.
Drawing of winners will be on a random basis and shall be conducted within 2 weeks after the contest ends.
A customer may only win once. Should a name be drawn more than once, the prize with a bigger value shall be awarded to the winner.
Winners will be notified by phone and email. Announcement of winners will be made via Italiannies social media page (FB/IG).
All entries must be completed in full. Failure to do so will result in disqualification.
Italiannies reserves the right to make any changes without prior notice.
Other terms and conditions apply.
Vouchers Terms and Conditions
E-Voucher
The RM600 and RM300 E-vouchers will be distributed equally in the denomination of RM100 and RM50 respectively on a monthly basis from June 2021 - Nov 2021 via M Squared App.
The vouchers will expire on the last day of each month.
Redemption of the vouchers can only be performed via the M Squared App.
The vouchers shall be issued to the winners via the details submitted on the entry form.
Vouchers are not exchangeable for cash.
Expired vouchers will not be refunded, accepted or extended for usage.
Any unused balance will not be refunded.
Vouchers are not valid in conjunction with any ongoing promotions, discounts & privileges.
Italiannies reserves the right to refuse redemption if the vouchers are found to have been tampered with.
Neutra Treatment Voucher
Redemption of the voucher is valid from 1 June 2021 - 31 July 2021.
Digital vouchers are accepted during redemption.
The voucher is valid from Monday - Friday, 10:30am- 10:30pm (last appointment 9:30pm).
The voucher is only valid on selected public holidays (please call to enquire.)
The voucher is valid for both male and female customers.
Limited to one (1) voucher per person.
The voucher is not refundable or exchangeable for cash, promotions and any unused balance will not be refunded.
Expired vouchers will not be accepted or extended for usage.
Neutra reserves the right to substitute service(s) with another service/item of similar value in the condition wherein the original service is overwhelming or out of stock.
Must call in for booking [Bangsar branch- 014 9000338, 603 238004165], [Month Kiara branch - 012 5210414, 603 5888272]